Sundara vimana: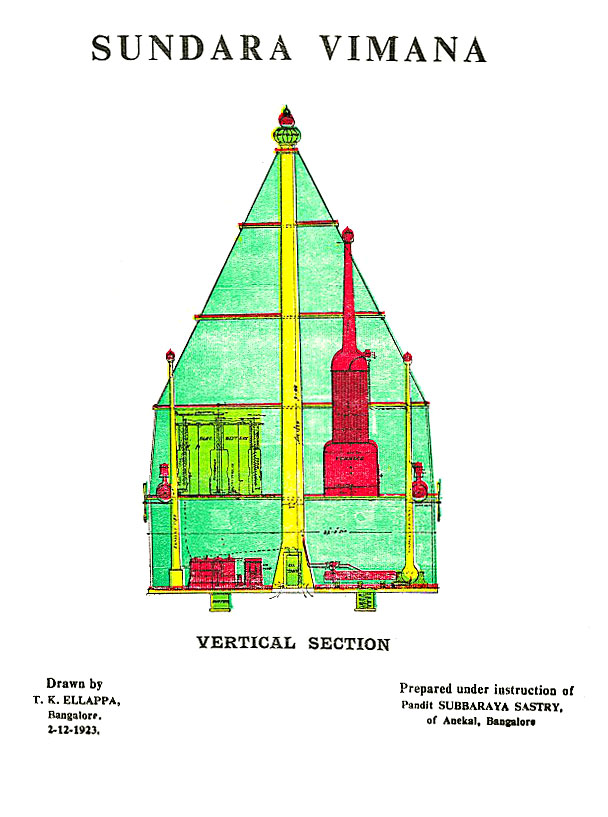 Eight constituent parts are:
Peetha or ground plate Smoke chimney
Five gas engine Bhujya metal pipe
Wind blower Electricity generator
Four phased heater Outer cover
Peetha or ground plate of Raja-loha with options to have square or round shape. In the centre of the peetha Dhoomaprasaran Naala or pipe is provided. Hollow mast is a tall cylindrical member with provision to store gas energy at the bottom portion. Water vessels, oil tanks are housed at the centre. At its foot electricity is stored in a container.
Oil container will have three oils: Dhoomanjana oil, Shukatundalika oil (eggplant oil) and Kulaki or Red arsenic oil in the ratio of 12:20:19. Ignition of the oil mixture is by electrical means. Distribution of gaseous products seems to be through a special arrangement ensuring even spread of gases. Dhoomodgama yantra is meant to eject gaseous mass with speed. In constructing this only Dhooma garbha loha with composition of Himasamvardhaka, Soma and Soundala metals have been specified. Control of high-energy gaseous products is through revolving wheels (possibly to operate valves). Description indicates a hydraulic accumulator type of arrangement for storing gaseous product. Ignition of oil is achieved by combined process of electrical energy and friction.
Actual thrust is obtained by passing the high-energy product through a number of Sundalas or Jet nozzles. This obviously seems to be based on reaction principle. Manufacturing process of Sundala (made out of special metal-impregnated fabric, flexible, heat-resistant) as given by Lallacharya is explained in brief. These sundalas or naalas are kept rolled-up over revolving drum while not in use. They are unrolled and kept taut while in use. The gaseous products get discharged through a number of them in jets producing thrust.
Generation of electric power has also been briefly covered. The text talks of 32 types of machines to produce electrical power. Different methods broadly stated are friction, by thermal process, by waterfall, by combination of all these and also by solar rays. This technology is ascribed to sage Agastya in his work Shaktitantra. Electrical power production is described using four vessels located in four directions and a central vessel. Several types of acids, dravas are used in each vessel. Crystals or Manis such as Vidyutgama, Jyotirmukha play a key role.
Extensively treated lion's skin and deer's skin (possibly for their high insulation properties) figure in the process. Central vessel forms the accumulator of electricity generated. Anshupa Mani or Solar rays absorbing crystals is the main medium that absorbs heat that gets converted to electricity through a process not clearly described. The process of storing electricity by use of mercury has also been brought in. Stored electricity is conducted to all parts of the vimana through insulated cables for operating various services.
Vataprasaran yantra is described as one to generate the main Udgama Shakti or lifting force. This yantra comprises of twelve parts, including Naala-Stambha, valves regulating inlet / outlet for fresh, compressed air, exhaust, air guides, vanes. The system includes an air compressor. The description hints at using compressed air jet to obtain thrust. Further description mentions that compressed air conducted through Naala sthambha and energy product by Dhoomodgama yantra through the inside of the main mast or Bruhad sthambha. They confluence at the end and go out through sundalas with high velocity, effecting jet propulsion.
As stated for Shakuna vimana, Raja-loha is used for structure and covering of this vimana also. Chaturmukha or Oushnya yantra is the main heat engine. Comprising of 18 parts this includes, Peetha, Smoke accumulator, Oven, Water container, Valve controls, smoke opening, Regulatory valve, heat indicator (temperature), Time clock, Speedometer, Sound-transmitting instrument, Anthardhanda Ghata, air bellows, Long sundala pipes, Copper pipes etc. Sundala used as jet nozzles to obtain thrust are also used for vertical and aft movements and directional control of the craft. Computation of speed claimed to be achieved needs a re-look. The thrust from each contributing source seems to have been added up. Retranslation of many verses in this chapter may help in better understanding.
Observations:
Use of specific types of oils suggests that high-energy potent fuel be under discussion.
Some error is noticed in the direction of movement of the craft vis-à-vis jet stream from sundala nozzles. Applying the principle of reaction the movement of the craft should be in the direction opposite to the thrust line. Possibly this aspect is dealt by Swami Dayananda Saraswati in his Rigbhashya Bhoomika. Incidentally this is quoted in the report of I.I.Sc Bangalore also.
Very importantly solar energy employment for producing electricity is a unique feature. Probably this technique was not heard of even by the middle of 20th century.
Use of sundalas, as jet nozzles are again interesting. Operating each sundala independently and varying mass-flow and velocity of jet separately, multiple degree of craft control should be available.